Admin
10.02.2021
Category : WEB GIS Training Documents
POI is the location of a specific point that a person might find useful or interesting. You can easily collect POI in GISLayer software. This document describes how to collect google POI.
You can easily collect POI points in the GISLayer software. In the process of collecting Google POIs on the map in GISLayer software, the user will need a vector layer to collect the POI points in one layer. If you don't have a layer
Data -> New Layer
you can create a new layer from the panel opened by clicking the button.
You can also take advantage of the fast layer creation feature with the create button in the panel.
1 Google POI Finder Panel
To access the Google POI menu, click on the "Google" button in the services menu.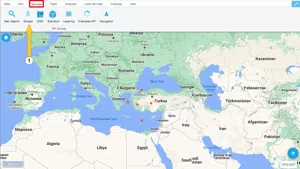 Parameters to be entered in the Google POI find panel:
1.1.Which layer to add
2.2.POI radius of the search circle
3.Categories
These parameters must be filled in completely.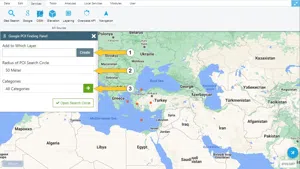 There are various options in the categories field. These;
Accounting
Administrative Area Level 1
Administrative Area Level 2
Administrative Area Level 3
Administrative Area Level 4
Administrative Area Level 5
Airport
Amusement Park
Aquarium
Archipelago
Art Gallery
Atm
Bakery
Bank
Bar
Beauty Salon
Bicycle Store
Book Store
Bowling Alley
Bus Station
Cafe
Campground
Car Dealer
Car Rental
Car Repair
Car Wash
Casino
Cemetery
Church
City Hall
Clothing Store
Colloquial Area
Continent
Convenience Store
Country
Courthouse
Dentist
Department Store
Doctor
Drugstore
Electrician
Electronics Store
Embassy
Establishment
Finance
Fire Station
Floor
Florist
Food
Funeral Home
Furniture Store
Gas Station
General Contractor
Geocode
Gym
Hair Care
Hardware Store
Health
Hindu Temple
Home Goods Store
Hospital
İnsurance Agency
İntersection
Jewelry Store
Landmark
Laundry
Lawyer
Library
Light Rail Station
Liquor Store
Local Government Office
Locality
Locksmith
Lodging
Meal Delivery
Meal Takeaway
Mosque
Movie Rental
Movie Theater
Movig Company
Museum
Natural Feature
Neighborhood
Night Club
Painter
Park
Parking
Pet Store
Pharmacy
Physiotherapist
Place Of Worship
Plumber
Plus Code
Point Of İnterest
Police
Political
Post Box
Post Office
Postal Code
Postal Code Prefix
Postal Code Suffix
Postal Town
Premise
Primary School
Real Estate Agency
Restaurant
Roofing Contractor
Room
Route
Rv Park
School
Secondary School
Shoe Store
Shopping Mall
Spa
Stadium
Storage
Store
Street Address
Street Number
Sublocality
Sublocality Level 1
Sublocality Level 2
Sublocality Level 3
Sublocality Level 4
Sublocality Level 5
Subpremise
Subway Station
Supermarket
Synagogue
Taxi Stand
Tourist Attraction
Town Square
Train Station
Transit Station
Travel Agency
University
Veterinary Care
Zoo
The required fields are filled and the "Open Search Circle" button is clicked. Then POI points are started to be collected.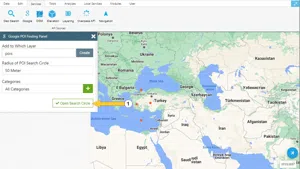 An example result is shown below.