Admin
02.03.2020
Kategorie : WEB GIS Education Documents
Using the GISLayer Software, you can create an empty layer and design it as you wish. We offer you three different options to create a new layer. You can easily access the preferred and most used method from the Data tab as you can see in the screenshot below. The second option is the "create a new layer" button, which is one of the functional buttons in the top row of the "layer box".
Step 1: Data -> New Layer
Open the Data menu and click "New Layer" button.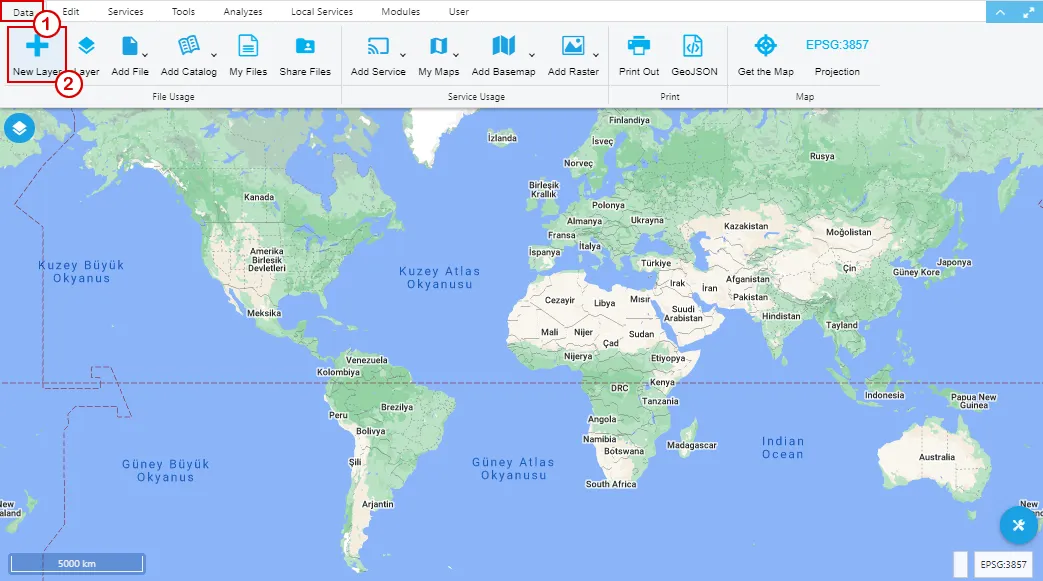 Step 2: Enter the required information in "Create New Layer Dialog Box"
In this Dialog Box, you must enter the properties of the layer you want to create. Below are a screenshot and a text to identify the fields where information should be entered. At the end of the process, you will create a new vector layer.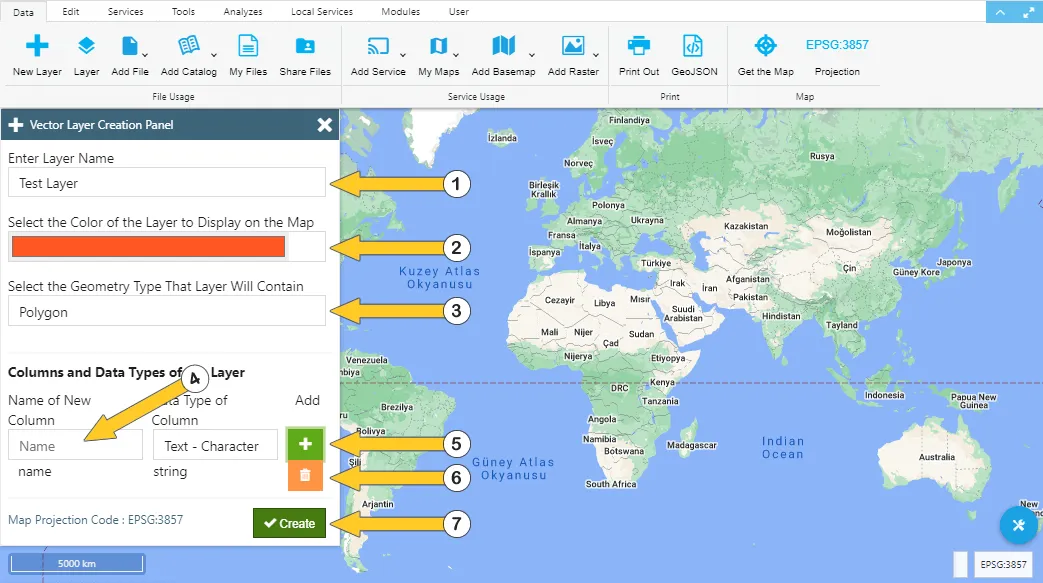 Name the Layer: This field will help you name the layer you created in "Create New Layer Dialog Box"
Chose Layer Color: The layer will be shown on the map with the color you selected.
Select Feature Type: This field is used to determine which feature type
you want to keep in your layer. If no selection is made, you can add each feature type
to your layer.
Attribute Field Definition: This section allows you to set characteristics about attribute fields. Attribute fields are used to enter the values of the feature. Field Data Types you can use are;

Text & Character (String)
Number (Integer)
(Double)
Logical Value (true-false)
Date

Adding Attribute: With this button, you can add the attribute to the layer after you have created it and specified the data type.
Attribute Deletion: This button will help you to delete the attribute columns that you do not use or that are entered incorrectly.
Add Layer to Map: This button is the last step of the process and allows you to add the layer to the map.
The first step is mandatory. When you add the layer to the map, it will shown in "the layer box" as in the screenshot below.